Howdy! Last time I left off, we had just finished stims and were getting ready to administer the Lupron trigger injection to prepare for egg retrieval. The following post contains my account of the egg retrieval procedure. Warning: content is graphic in nature and may be inappropriate for children or squeamish adults.
Our egg retrieval was the morning of Thursday, March 26. As soon as we arrived at the clinic, our nurse (Judy) escorted us to a private waiting room where she took my vitals and asked me a few questions about my medical history, medications, emergency contact, etc. Then she gave me two Valium to help me relax, and this is where things start to get a little fuzzy…
I remember Tim leaving the room to make his "contribution" while I changed into a hospital gown and robe. I sort of remember the IVF coordinator (Jess) starting an IV. By the time Tim came back to our room less than 20 minutes later, I was feeling mighty fine – like I had just chugged two glasses of wine. It was party central.
At some point Dr. C came into the room and talked to us about the procedure. He commented on my bright pink socks and joked that he would have to wear sunglasses while he was performing the retrieval. I, of course, found this hilarious!  He also commented that he had already performed one retrieval that morning, so he was nice and warmed up. (See what I mean? Not only is Dr. C a wonderful doctor, he is also slap-your-knee funny!) Then the nurses had me empty my bladder (thank goodness, because I really had to go!). When I walked out of the bathroom, the other nurses at the clinic asked me to lift up my foot so they could see my pink socks everyone was talking about. I happily obliged. Then I kissed Tim goodbye and the nurses walked me down the hall to the retrieval room.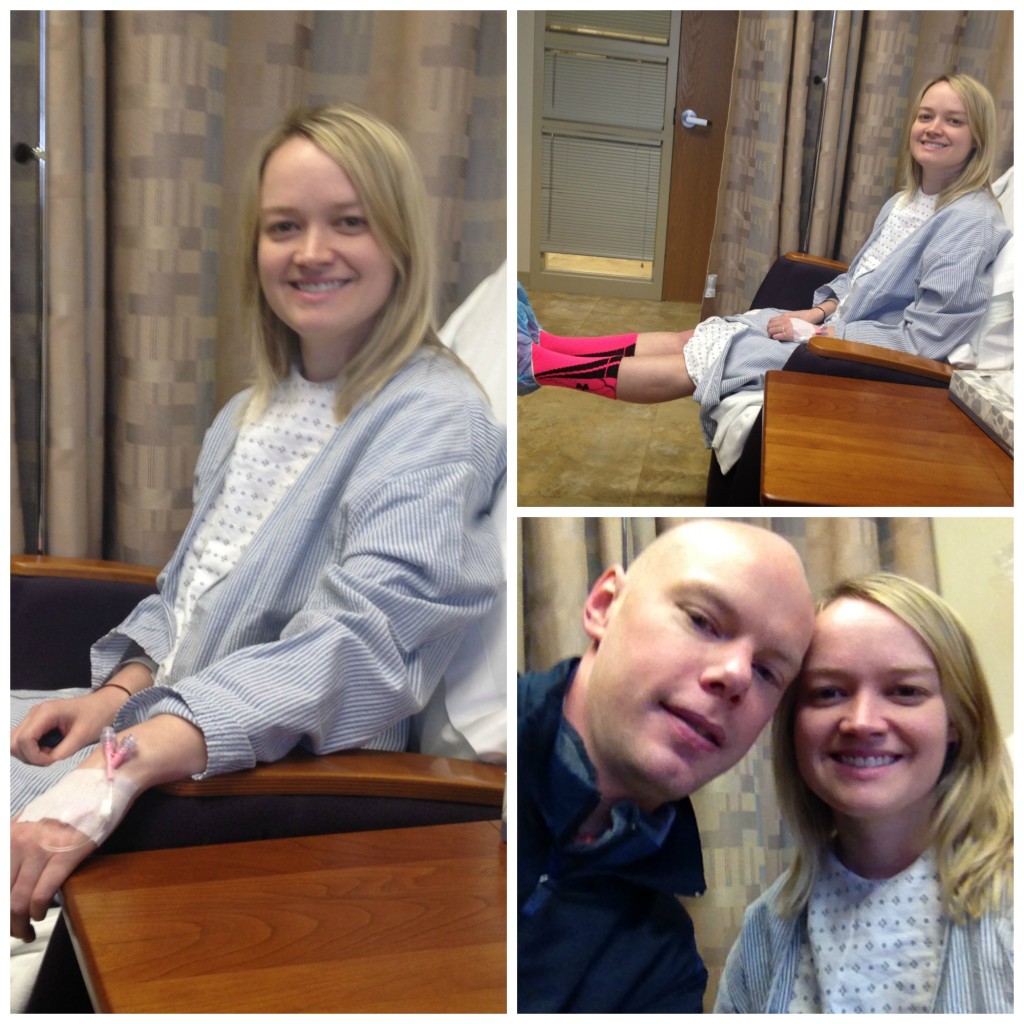 Once I got to the procedure room and situated on the table, the nurses covered me with a warm blanket. Dr. C dimmed the lights, and I vaguely recall music playing. (Tim mentioned later that Dr. C said eggs don't like light. I must have been in la-la land for that conversation.) I also remember thinking it would be so fun to do one of those Taylor Swift "Shake it Off" lip-syncing videos while I was in there. (I was really enjoying the Valium.)
Anyway, there were three other nurses in the room. One of the nurses (Kelly) sat near my head and helped position the nasal cannula (I just had to look that up) on my nose. She also started pumping pain meds through my IV while Dr. C started to, um, get things ready in the land down under.
For the actual retrieval, Dr. C inserted a needle attached to an internal ultrasound probe into my whoo-ha (trying to keep it PG over here). After locating my ovaries and the follicles on the ultrasound, he punctured each follicle and gently sucked out the egg and fluid within each follicle. I can't be sure, but I think a long tube ran from the probe to the embryologist waiting in the lab next door. (She waved at me through a small window/opening in the wall next to Dr. C.)
They kept me fairly comfortable throughout the procedure, which lasted less than 20 minutes. I watched most of the retrieval on a small screen next to my bed. I felt mild to moderate menstrual cramps throughout most of the procedure. Toward the end, I started to feel pretty uncomfortable but refused additional pain medication since it negatively affects egg quality. The embryologist kept giving us an updated egg count ("We're up to six eggs!"), and I remember feeling a small thrill that I did it – I actually made eggs. Dr. C joked that the embryologist was our first "babysitter" since she was busy watching over our eggs in the lab. Once again, I found this absolutely hilarious.
Even though the procedure is performed under light sedation, I was conversational throughout most of it. Here are some rather cringe-worthy snippets of conversation:
"Everyone in my family just looks at it and gets pregnant."
"Wow, these stirrups are really nice. They kind of, like, cradle my legs."
"Do you guys watch The Bachelor? Whitney was a fertility nurse, and she and Prince Farming made a baby in the lab. I mean, it wasn't his baby, but they helped make one with a couple's sperm and egg."
"You know, twins actually run in Tim's family. One time, one of them pulled the fire alarm at school"…(I lost my train of thought and never finished the story.)
"Do you ever watch the TODAY Show? They did a series not too long ago on IVF. They showed the retrieval, and ICSI, and…" (Once again, I forgot what I was saying.) "Yeah, you should really check it out!"
Dr. C also asked me where I grew up. I told him the name of the small town, mentioned the booming population of 4,000, and said everyone was super excited when we got our first stoplight a few years ago. He said, "I think they have an airport. I think it's an international airport." (OMG, hilarious!) I said, "You have a plane, right? Wow, that must be so fun."
While I was busy making small talk, Tim watched the procedure on a television screen in our private waiting room. He said a nurse sat with him for a bit to explain what was happening. The top photo shows an ultrasound of Dr. C inserting a needle into the follicle to draw out the fluid and egg. The bottom photo shows the embryologist examining the fluid and egg in a petri dish in the lab.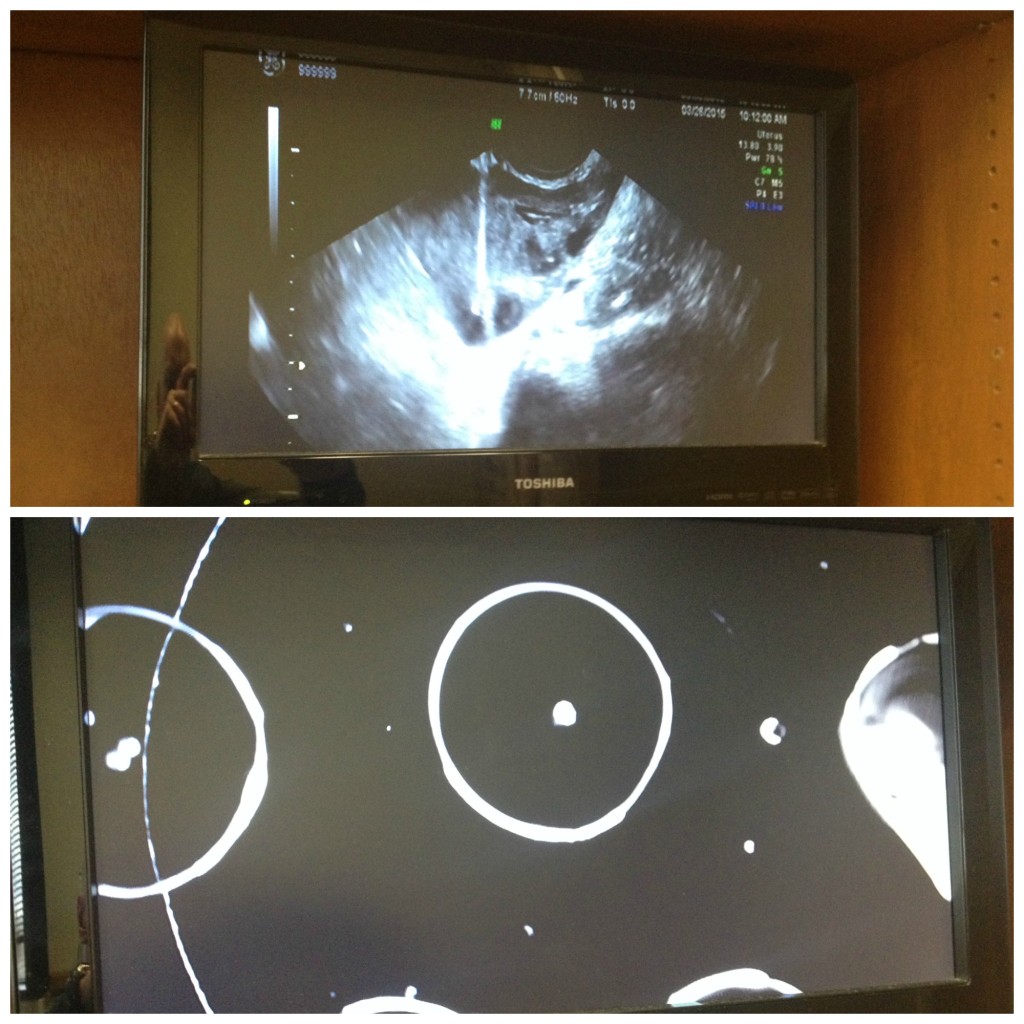 After completing the procedure, Dr. C and the nurses helped me sit up and take a few steps to a La-Z Boy on wheels. Dr. C then wheeled me down the hall back to Tim. Baby photos line the hallway, and I remember making a mental note to send Dr. C a photo of our baby/babies. Once we got back to the room, Dr. C announced they retrieved 21 eggs! Feeling especially chipper, Tim and I made some comment like, "Overachiever much?!" My boss later called me the Easter Bunny.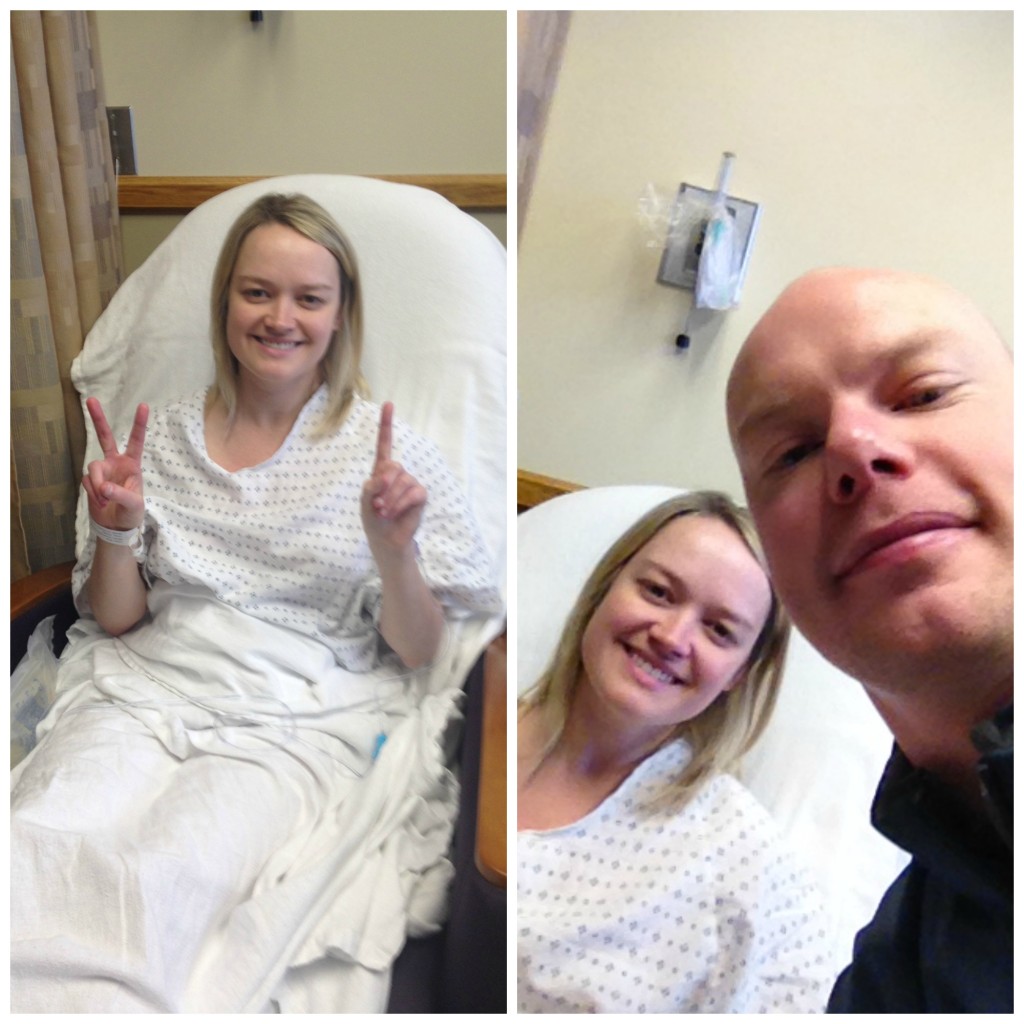 I sipped on animal crackers and ginger ale while they pumped two bags of fluid into me. Before getting dressed, Judy drew two squares on my butt cheeks so Tim would know where to administer the Progesterone in Oil injections we had to start that night. Judy joked that she was really drawing smiley faces or hearts on my bum. (I was losing it at this point.)
After Tim helped me get dressed, we walked out to the nurse's station, and they all commented that I didn't even look like I just came out of surgery. I jokingly fluffed my hair and was like, "Well, you know…"
Once we got out to the reception area, Tammy (one of the nurses) said something like, "See, all your follicles were still there!" At one of our last scans, I told her I was terrified my follicles would just disappear or I would spontaneously ovulate. She had reassured me the follicles would be there waiting for me at retrieval.
On the 20-minute car ride home, Tim stopped at McDonald's to buy me some fries. I took one bite and started to feel a big queasy. As soon as we walked in the house, I ran to the bathroom and tossed my cookies three times. Party. Over. Tim helped me to the couch, where I slept the rest of the day.
I felt pretty sore and bloated that evening and the following day (Friday), but I was also so relieved that egg retrieval went so well. The nurse called on Friday to say the embryos were doing great, and we were on track for a Day 5 transfer.
As soon as she said the word embryo, I started crying at my desk at work. In our five years of trying to conceive, we have never once gotten pregnant. We have never created anything. So the fact that we now had embryos thriving in a petri dish made my heart happy beyond belief.
If all continues to go well, our embryo transfer will be Tuesday, March 30. Because I over-responded to stims, we had to follow the Lupron trigger protocol to help prevent OHSS. That means I have to take Estradiol pills, vaginal progesterone suppositories (Endometrin), and Progesterone in Oil injections through the first trimester of pregnancy. This is a small price to pay for our little miracle(s).
Next Steps:
Embryo transfer on Tuesday, March 30!